For the last two years I've issued my
"Women in the Scriptures Challenge"
at the beginning of the year and I am going to do it again this year... and probably for the rest of the time I write this blog. I think it is a really important way for followers of Christ to study their scriptures... male and female.
The full challenge is to read through the
complete
standard works and keep a list of all the women you find mentioned. The half challenge is to read through
one
volume of scripture and keep a list of the women you find mentioned. I am certain that what you discover will surprise you!
Read here
for all the details of the challenge.
If you've already completed the challenge, either the full or the half, you can put this gold star to put on your blog! Or print it out and stick on your fridge if that works better for you :)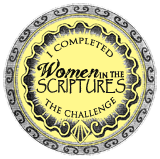 I know that many of you have committed to doing the challenge this year and I'd LOVE to know about how the experience was for you, what you learned or what you discovered this year. So if you have done the challenge (even a little bit of it) please comment and/or link to a post you've written about your experience and insights. You might just inspire someone else to take the challenge.

And if you started doing the challenge and haven't finished it yet-- don't give up-- you have another year, or another or another until you get it done. It isn't something you have to rush through. And in fact you can even do the challenge two or three times if you want. Trust me, it never gets old.