I have been feeling really home sick lately. I know we moved more than a month ago but I really miss my house, my neighbors, my ward, my grocery store, my apriocot tree (which would be overflowing right now), my shower, my yard, my chickens. Pretty much everything. It is hard to get use to a new city and a new house. Though I am sure I will, eventually. I feel like I am a really adaptable person and can be happy just about anywhere--- if you give me enough time.
The last few weeks though I have really been missing having chickens. I didn't realize how much we ate eggs. We got about 6 a day and we usually used them all. I now need to buy 3 dozen eggs from the store to keep up with our egg habit! And it is hard to buy store bought eggs now. Fresh eggs are
so
much better. I didn't realize how different they are until we didn't have them any more. Store bought eggs don't even look or taste close to what a fresh egg does. We were spoiled. Sigh.
As I was pining away for my chickens I read this
really funny post
by one of the women I blog stalk. The end had me laughing so hard I was almost in tears. Oh, roosters...
-2-
"Women in the Scripture Challenge"
button (that is on the sidebar of my blog) wasn't working. She was good enough to find the problem with the code (one additonal /) and I was able to fix it fairly easily. If you have the button on your blog I would highly suggest updating it to the new one, found here, as the old one will just take you to a blank page.Here is the new one for easy access.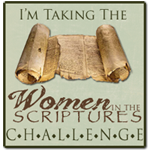 Also, I didn't notice it when my blog was re-designed a few months ago (for which I am so grateful) but Misty created a beautiful button for those of you who have completed the
Women in the Scriptures Challenge
(the full or the half challenge). If you have finished you are welcome to take it. It was a fun treasure to discover. I didn't know that she had done that. Thanks
Misty
!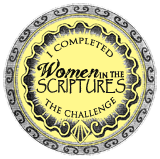 Rose is quite the little chatter box. Her vocabulary has exploded the last few months and she surprises me all the time with long stories and narratives. She is still trying to figure out the ins and outs of the English language and it is really cute. Lately she has been saying "they" instead of "them". Like,
"Mom, here are my shoes. Will you put they on me"
or
" Crackers! Mom, I want they."
I really love it.
Asher and Rose also started telling me that they want to eat their banana's "like a monkey". Which means they want it with the peel only pulled half down. Then they usually make monkey sounds and jump around... which is just an added bonus. Wild kids.
Our book launch party went great. It was so fun to get to meet more of you and get to spend more time with these amazing women (we missed you Sheridan!).
And signing books in a very professional manner :)
So now I guess
our book
is officially launched! Woo hoo! I will be excited to see where the current takes us from here.
Any suggestions for good summer foods. Turns out that everything I like to cook requires I heat up the stove and the oven. With temparatures pushing the 100s around here that is really not a good idea. I am getting bored of having hoagie sandwiches, spinach salad, and cold cereal for dinner-- not all at the same time mind you :) I'd love to hear your favorite--cold-- summer recipies!
Please.
Pretty Please.
I am getting desperate.
Have a wonderful weekend!
If you want to link to your own "Five Things for Friday" post you can use the tool below to add your link. 1) Please link to the URL of your blog post and not your main blog and 2) Please include a link back here