Last year at this time I issued my
"Women in the Scriptures Challenge.
" I've decided I am going to re- issue the challenge again this year. In fact I think it will be ongoing challenge always on this blog. So if you haven't completed it yet-- don't give up-- you have another year, or another or another.
If you've already completed the challenge, either the full or the half, you get a gold star to put on your blog! Lucky. I'd also LOVE to know about how the experience was for you, what you learned or what you discovered. PLEASE use the
linky
at the bottom of the page to link to a post you've written about your experience and insights. You might just inspire someone else to take the challenge.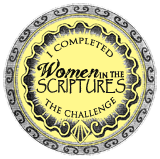 I am going to put a link to this post on my side bar and whenever you finish the challenge you can come back and grab this button and link up to your experience. I'd love to have a collection of lots of different women's testimonies and experiences with the women in the scriptures.
Also, by request of someone who has a dark background on their blog, I've made a light colored button for the Women in the Scriptures Challenge. You can use this one or the old one which ever works best of you.