A few years ago I started keeping a notebook of all the women I found in the scriptures.
I kept track of all the named women, unnamed women, references to women, any mention of wombs, breast, menstruation or any other reference to women's bodies and functions. Reading the scriptures through the lens of women completely changed my perspective and understanding of the scriptures. I use to dread personal scripture study and sometimes even fell asleep during it
... gasp, you've never done that have you?
I had a hard time relating to the stories, especially in the Old Testament, but when I discovered the women in the stories a whole new world opened up to me.
I realized that these women lived lives not too different from mine, they struggled, fought, cried, doubted, bore children, breastfed, loved men passionately, and most importantly... they lived. They were real women who had real struggles and learned important lessons that were unique to women. I no longer fall asleep during scripture study but am excited every day to discover a new woman and a new story that I can relate to. I understand now the wisdom behind what Nephi said when he told us to "liken the scriptures" unto ourselves (
1 Ne. 19: 23-24
).
In view of this I have issued a standing challenge for all my readers...
The Women in the Scripture Challenge...
if you are super brave and daring you can take the Full Challenge or if you are semi-brave and somewhat daring you can take the Half challenge.
The Full Challenge
1) In the next year
(ideally)
read the
ENTIRE
standard works, Old and New Testaments,
Book of Mormon
,
Doctrine and Covenants
and
Pearl of Great Price
.
You don't necessarily have to start with the Old Testament you can start in wherever book you like. You can even just start from where you are in your personal scripture study right now.
2) Keep a journal of all the women you find mentioned, this includes named and unnamed women. This should be a journal just dedicated to women in the scriptures.
Hint... it will probably be much bigger than you think it needs to be.
2a) If you don't want to keep a journal another option is to mark your scriptures with the same color whenever you find stories or references to women. Here is how
I have marked mine
in case you need a visual example.
3) In this journal write down questions, thoughts or inspirations that come to you as you read about these women's lives.
Here are some questions
you might like to ask yourself when you discover a new woman.
4) Let God teach you new truths about what it means to be a daughter of God.
The Half Challenge
This challenge is the same as the full challenge except that you aren't undertaking the entire standard works. Pick
one
book of scripture and read it from start to finish specifically looking for women and their stories. Write each one down in a scripture journal and record what you learn-- or
mark them in your scriptures
.
By far the Old Testament has the most women but it is also the longest. The New Testament has some remarkable women that I'm sure most people haven't ever heard about. The Book of Mormon will surprise you with how many women you'll find. The Doctrine and Covenants might disappoint you-- it is a book of revelations not a history book like the other books. The Pearl of Great Price has some amazing stories of women that will boggle your mind.
The Half Challenge could easily turn into a Full Challenge... or at least a 3/4 challenge... once you get rolling.
Are you brave enough?
If you decide you are brave enough to accept this challenge then grab this button and stick in on your blog, or wherever you like, to remind you that you are committed.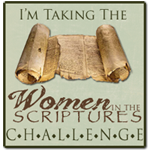 When you've completed the challenge-- either the full or the half-- I would love to hear about your experience and what you've learned.
This journey is one that should be shared.
I can bear testimony that embarking on this challenge in any way will dramatically alter your perspective of the scriptures. You will find women, stories, and eternal truths that you didn't even know existed. They will literally jump out at you from the pages. You may also come to realize more fully what it means to be a child of God and and feel more deeply God's love for all His daughters.

If taken with faith and prayer this challenge could possibly be a life changing event.

Is that bold of me to say?

Take the challenge and find out.