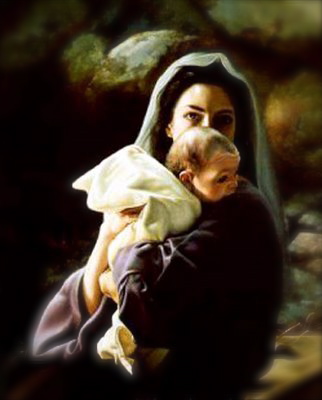 There are some women who are going to require multiple posts because there is just so much to say about them, Mary is one of these women. This post is about the first of the many sacrifices Mary made throughout the life of her divine son, when she took her lamb as a sacrifice to the temple.
Luke 2: 21-35
Facts about her:
According to the law of Moses she was unclean after the birth of her son for 7 days. This meant she was separated from others and anyone who touched her or things that she had sat upon also became unclean and could only become clean again by bathing (Lev. 15:19-24);

On the eighth day after the birth of her son, she had Jesus circumcised as commanded by the law of Moses (Lev. 12:3);
After the initial 7 day period of uncleanness, she was ritually unclean for 33 days (Lev. 12:4). This type of uncleanness was different from the 7 day uncleanness in which a woman was separated and not touched. This uncleanness just meant that she was unable to enter the temple (or tabernacle) or touch holy things until she had made the offering of a lamb and a young pigeon or turtledove to atone for her. If the family was too poor for a lamb they could bring two turtledoves (Lev. 12: 6-8) ;
After her 40 days of purification were over she went with Joseph to present Jesus to the Lord (Luke 2:22-23) and to offer a sacrifice to make her purification complete (Luke 2:24);
In accordance with the law of Moses she brought two turtledoves and knowingly or unknowingly she brought

the lamb of God

as her offering to the Lord;
It was revealed to Simeon by the Holy Ghost that Jesus was the Christ child and he prophesied of his divine mission (Luke 2: 25-35). He also told Mary that "a sword shall pierce through thy own soul also, that the thoughts of many hearts may be revealed" (Luke 2:35);
She and Joseph marveled at the things which Simeon prophesied about their young son (Luke 2:33).
Speculations about her:
Some think that the bringing of only two turtledoves shows that the Holy Family must have been poor because they could not afford to bring a lamb. In reality, they were the most wealthy of families, spiritually, and brought a lamb of infinite worth.

My Thoughts:
As I've studied this story there has been one question that has bothered me above all others---
why was a woman considered unclean physically and spiritually after giving life to a child-- 40 days if it was a boy and twice that long, 80 days, if it was a girl (Lev. 12)? And why was it necessary for a woman to make a sin offering as an atonement after giving life?
These questions have been weighing upon my soul for sometime. I can't understand how something as amazing and beautiful as creating life could be punished by a separation from God and from others. It is hard for me to believe that God would punish women for doing what he created them to do, or that God could look upon childbirth as anything other than divine and sacred. It seemed even more strange to me Mary would be considered unclean and impure after giving birth to the Son of God himself. I just can't understand how something so good as giving life could be considered a sin.
I still don't understand it completely but as I've pondered these questions I've come to a conclusion and this is it... That life is a two edged sword, because every woman who brings life to a child must also accept that she has ultimately brought death to that child. This is Eve's paradox-- that one can not know the sweet without tasting the bitter, that one can not know joy without the sorrow, and that there can not be life without death. To bring life is to bring death, and while giving life is not a sin being the cause of death is. During the law of Moses a woman was unclean after giving birth not because her body was dirty or because she had sinned in conceiving the child, but because with the new life she brought into the world she also brought death. Bringing a girl child into the world made a woman twice as unclean, not because girls are not as important or valuable to God, but because each new girl means more life and ultimately more death and sin. Under the law of Moses there was no redemption and a woman had to atone for her own sins, by being separated from the presence of God (the temple). Yet, in symbolism of the atonement that would one day be performed, she could be "redeemed" by sacrificing a lamb and a turtledove, but it was only symbolic. To bring life was still to bring death.
This is where Mary's story becomes SO beautiful and SO important to EVERY WOMAN who has ever lived on the earth.
When Mary took Jesus to the temple she presented to God the "great and last sacrifice", one which would conquer the bands of death and sin and free all souls forever. Jesus Christ's atonement and resurrection broke the bonds of death, meaning that ALL men, regardless of the lives they led on earth, would live again both body and spirit. Christ's atonement meant that women no longer brought death with them when they gave life. Eve's paradox was broken-- there could now be life without death. After the atonement women were no longer considered unclean after menstruation or after childbirth, because Christ had over come all death and man would live again.
And it all began because Mary was faithful and strong enough to offer the ultimate sacrifice--- her Lamb of God. We often talk about how much God loves us because He was willing to sacrifice His son, but Jesus was Mary's son just as much as He was God's son. What great love Mary must have had for all human souls to be willing to offer her son as a sacrifice for all our sins. What a magnificent and amazing woman she must have been. One can only imagine how her soul must have rejoiced at what glorious blessings awaited the world, but how at the same time her heart must have broken into pieces knowing what she knew her son would have to suffer. My soul rejoices in her and I will be forever grateful to this magnificent and beautiful woman for all her sacrifices and the immensity of her love.
Questions to think about:
Do you think she realized she was presenting her son as a sacrifice?

Do you think she knew what her son was going to have to suffer? When do you think she comprehended the immensity of his mission and purpose?

Do you suppose she ever had a hard time believing in her son? Did she ever doubt who he was or what he was called to do?
Would you be willing to present your son or daughter as a sacrifice to the Lord?
What sustained her through her grief?